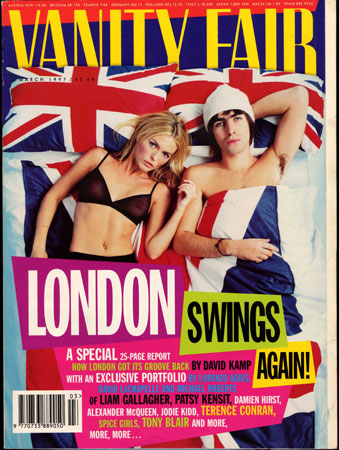 If you were between 18 to 30, and based in the UK during the Britpop years (bookended by Suede and the Spice Girls) it was possibly the closest anyone too young to remember the sixties got to tasting the uncorked excitement of an England Swings experience. The mid-nineties saw Britain's music scene blossom and bloom into hot spots of home grown, hybrid-mixing, hit makers - stretching from newly minted Anglocentric anthems, Indie rockers and Big Beaters to rediscovered retro funk, swishy soundtrack highlights and cheesy listening lounge tunes.
Add in Blur vs Oasis, Weller's return to form, former shy-eyed shoegazer guitarists giving it Guitar Hero riffery and the upsurge and momentum of the moment was enough to revive the surviving Beatles into action releasing new recordings and archived outtakes via Anthology.
If you fancied a night in there was the
reinvented Radio One
(which had finally shaved off it's beardy ol' DJs) or Vic and Bob's Shooting Stars. For a night out how about catching Trainspotting or any number or Brit-flicks hitting the cinemas or even shaking a leg at clubs like
Blow Up
.
So instead of waving the flag with the typical Britpop colours, how about a couple of remixed remodels and two often overlooked vids..
And you must check out Piley's review of Blur's recent Southend gig - their warm up for Glastonbury and Hyde Park.

The Pulp/Blur tracks are taken from the Steve Lamacq mixed

Weekenders

, so download them and they'll join neatly togther when played in sequence
Pulp - Common People(Motiv-8 Mix)
Blur - Girls and Boys (Pet Shop Boys remix)
Almost the forgotten men of Britpop, Black Grape's
It's Great When You're Straight.... Yeah!
is still the perfect summer soundtrack almost 15 years on from it's release - yes it really has been that long.
Black Grape - Tramazi Party